I'll be teaching two puppetry courses online this fall! I'm eager to welcome you into a world of performing objects and visual storytelling!
Movement for Puppeteers:
Wednesdays from 8-9pm Oct 21st-Nov 25th, 2020 $75
MOVEMENT for PUPPETEERS
This movement course teaches performers how to animate puppets and objects. Students develop a movement skillset different from that of the actor or dancer, specific to the puppeteer.

For more info and sign up see: ttps://katebrehm.com/MovementforPuppeteersFall2020.pdf
and
Making Magic With Toy Theater:
Sundays from 6-8pm Oct 18th- Nov 22nd, 2020 $150
MAKING MAGIC WITH TOY THEATER
Create your own performing world in a box! Toy theater explores the possibilities of a world where everything can come to life: characters, scenery, and even the stage itself. In six, 2-hour sessions you will design and devise your own toy theater puppet show. We'll learn tricks and techniques common in toy theater, but also take inspiration from the visual storytelling tools of scenography, comics, and cinema.

For more info and to sign up see: https://katebrehm.com/ToyTheaterFall2020.pdf
KATE BREHM is an accomplished international puppeteer and movement director certified to teach the Margolis Method of Physical Theater. Her New York based company, imnotlost, has devised original theater and interactive events since 2003. For fifteen years she toured the world as a close associate of MacArthur genius puppeteer, Basil Twist. She taught her semester-long movement for puppeteers course, Performing Puppetry, at Harvard University in 2019. She trained puppeteers on Broadway's Charlie and the Chocolate Factory, as well as its National Tour and Broadway's National Tour of Beauty and the Beast. She was associate puppetry director for Edwaard Liang's, Dorothy and the Prince of Oz at Ballet Met and Basil Twist's, Hansel and Gretel at Michigan Opera Theater. She is published in the Routledge Companion to Puppetry and Material Performance. She is teaching two online courses this fall: Movement for Puppeteers and Making Magic With ToyTheater. www.katebrehn.com
PERFORMING INVISIBILITY CLASS
Leimay Ludus Lab at Cave Arts Space in Williamsburg
Sunday, June 4, 2017 form 12-3pm!
Tuition on $38. Sign up here: http://leimaymain.cavearts.org/?p=5416


PERFORMING INVISIBILITY, with Kate Brehm, addresses the of mechanics of a performing body to which an audience is NOT meant to pay attention. The primary example of such a situation is the SEEN puppeteer, where the puppeteer is in no way hidden from view, but is not the focus of a scene. We'll also consider the unseen puppeteer, actor/ dancer supporting architecture and scenery, and actor/ dancer supporting other actor/ dancers.

The class uses exercises and improvisations to hone the students' visceral experience and directing of energy inside vs outside the body; performing a 'silent' core, while allowing energy extension; releasing the legs and arms from the tyranny of the torso; and following an energy vs leading an energy. Students should wear movement clothing without designs or text. We'll work with simple objects and the architecture of the space.

Kate Brehm is a movement director specializing in puppetry, scenic dramaturgy, and physical acting. Her New York based company, imnotlost, has been producing theater and events since 2003. She teaches performers practical and theoretical tools for performative visual thinking through her classes, Moving Objects and Performing Design. She is published in the Routledge Companion to Puppetry and Material Performance. Directing and/ or design credits: Things Fall Apart, Discrepancies, The Eye Which We Do Not Have, Dark Space, the Poofs. Events: Fireside Chats, Dance Hall Slow Dances, Slutty Puppets. www.imnotlost.net Since 2006 she has toured the US, Japan, and Europe performing and collaborating with critically acclaimed puppeteer, Basil Twist. She is trained in the Margolis Method of Physical Acting. www.katebrehm.com
DISCREPANCIES


(formerly titled - The Erdos Discrepancy)
St Ann's Warehouse Presents Discrepancies: Meditation 1
as part of Labapalooza

Theoretical math, abstract puppets, and a divine meditation on trust.

FRIDAY-SUNDAY JANUARY 29th-31st, 2016 at 8:00, 3:00, and 7:00pm
at St Ann's Warehouse 45 Water St DUMBO Brooklyn
tickets here: http://stannswarehouse.org

Featuring Kate Brehm, Rachael Shane, Alex Young, Maiko Kikuchi, Sarah Plotkin, Justin Perkins, Jalyn James, Katie Melby, and Monica Lerch. Directed by Amanda Friou and Kate Brehm. Costume design by Sarah McMillan. Set and puppet design by Kate Brehm

Developed by Kate Brehm, Amanda Friou, and Sarah McMillan as part of the 2016 Puppet Lab Residency at St Ann's Warehouse.
The Immersion Seminar
imnotlost studiolab Presents The Immersion Seminar: performing bodies in space

A week of practical performance workshops, pseudo-academic lecture-panel discussions, and a class mixer slow dance around the theme of SPACE.

Performance necessarily takes place within space, but space itself is also performative. This seminar addresses concepts and techniques for performing in space and utilizing its performative capabilities. Over the course of 5 days the imnotlost studiolab will host 4 workshops that seek to develop the human performers' skills, capabilities, and vision. Acting, Puppetry, Movement, and Clown explore shaping and dissecting space with one's body, scenery, and objects, responding to space emotionally, connecting with audience and fellow performers over distances and spatial confines, and telling stories through spatial patterns. A series of 3 lectures/ panel discussions delve into topics of performing in public space, interactive and participatory art, and sensory and immersive installation performance. And finally, a seminar mixer spice things up: The Dance Hall of Radiant Space, a sensual evening of slow dancing to vinyl with your peers.

June 27th - July 1st, 2015
at 130 Palmetto st studio 204 in Bushwick Brooklyn
tickets and info here: www.imnotlost.net/seminar

Featuring the talented minds and bodies of Gregory Schott, John Leo, Ron Binion, Benjamin Heller, Sarah McMillan, Sxip Shirey, James Mulry, Babycastles, Veronica Dougherty, Jonah Levy, Tracy Gilman, Todd Polenberg, Andrew Hoepfner, and Kate Brehm.


THE ERDOS DISCREPANCY
Dixon Place Presents The Erdos Discrepency a puppet show by imnotlost

Theoretical math, abstract puppets, and a divine meditation on trust.

Featuring a lone human performer against a tide of geometric performing objects and a chorus of indifferent puppeteers, Erdos submerges the audience in a series of meditations about our dependence on technology, the allure of blind faith, and the question of whether participation is even a choice.

The first work in progress plays at Puppet Blok,
WEDNESDAY APRIL 22nd at 7:30pm $12-$15
at Dixon Place 161 Chrystie st NY, NY ... J to Bowery or F to 2nd Ave
tickets here: https://web.ovationtix.com/trs/pe.c/9996237

Featuring Kate Brehm, Rachael Shane, Alex Young, Maiko Kikuchi, Sarah Plotkin, and Kate Reilly. Directed by Amanda Friou. Costume design by Sarah McMillan. Set and puppet design by Kate Brehm

The Dixon Place Lounge is open before and after the show, and you can bring your drink in the theater! Proceeds directly support Dixon Place�s artists and mission.

Check out Puppet Blok HERE
MOVING OBJECTS
Performance Class
Kate Brehm is teaching Moving Objects part 1 and 2 in early January 2015. Check out the details HERE
STUDIO
New Rehearsal and Workshop Studio
imnotlost has invested in a new space. It is available for monthly rental to build and rehearse your show. Check out the details HERE
CHAISE CLOWN
CHAISE CLOWN at Chashama 266
by Kate Brehm and friends

SATURDAY AUGUST 2nd, 2014
and SUNDAY AUGUST 3rd, 2014
3pm - 6pm
FREE FREE FREE
at Chashama 266 w 37th st, A WINDOW Performing Installation

Descending upon a lonely window in the Fashion district is a clown with a vision to build a tower out of this world and into the next... or at least up to the ceiling of this storefront. Come pass by the imnotlost Performing Installation at Chashama 266 w 37th st on SATURDAY AUG 2 and/or SUNDAY AUG 3 from 3-6pm. Bring a picnic. hang out. walk back and forth. Free viewing from the street will draw you into the mastermind of this facetious carpenter. imnotlost.net www.chashama.org
UPCOMING WORKSHOP!
Puppet and Object Manipulation: Part 1
taught by Kate Brehm

SATURDAY JUNE 14, 2014
1-5 pm $50
at Triskelion Arts Space studio Z
118 N 11th st, 3rd floor Williamsburg
Brooklyn, NY 11249.

To reserve your spot go to Brown Paper Tickets http://puppeteer.bpt.me.

Find your vertical core, drop your weight and be ready to move in this movement workshop for puppeteers. Working with simple objects we will discover what basic elements can help you transform anything into a puppet.
More info at WORKSHOPS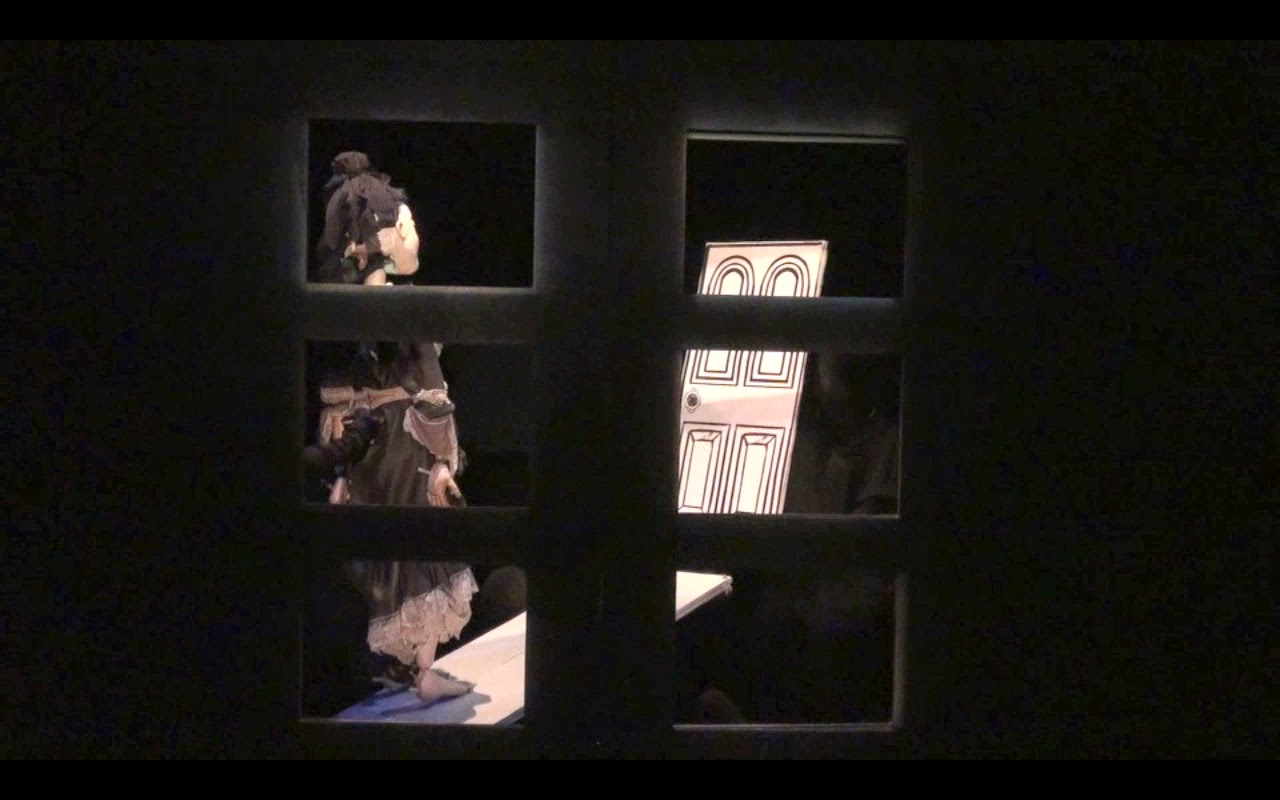 2013 Contemporary Performance Almanac
The Eye Which We Do Not Have is featured in the 2013 Contemporary Performance Almanac. The book is available HERE. And The Eye is available for touring!
February 2014 Performance at Funeral Show
The Puff Angel Snowflake appeared down from heaven to weigh the soul of this poor fellow in the coffin. performed by Kate Brehm. See some video HERE.